Specifics
For $20.00 per year subscribers gain access to the full website.
1. Run ABA Programs . Select from over 50 programs. Customize sessions.

2. Access your own directory where you can print, create, modify, and save your activity schedules online.

3. Online storage for easy access between caregivers, teachers and therapists.

4. eBook - Activity Schedule Ideas - A How-To Guide

(Sample Pages)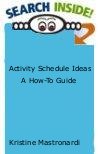 5. Access to ready made schedules and choice boards including:
Choice Boards
Bathroom
Behaviors
Chores
Dressing
Eating
Leisure

Chores
Changing the sheets
Doing laundry
Make your bed
Clearing the table
Sweeping
Feed the dog

Bathroom
Wash your hair
Washing hands
Washing hands(boy)
Go to the bathroom

Dressing
Get dressed
Get dressed (winter)
Eating
Fix breakfast
Fix lunch

Home Skills
Call 9-1-1
Call Grandma

Play Skills
Trains
Blocks
Puzzle
Play house
Color

Recipes
Make a sundae
Make Chocolate Chip Cookies
Make a peanut butter and jelly sandwich
Make a milkshake

Routine
Morning routine
Night time routine
Packing bag for school
Hang up coat
Doing homework
6. Free technical and help desk support.
[Back to Top]