Pictures
Joeschedule.com supplies pictures or...

Use your own pictures or...
We provide you with a simple interface that allows you to easily get pictures from the Internet. You can go to a favorite website to get pictures or use a search facility to get pictures of just about anything. Images may be subject to copyright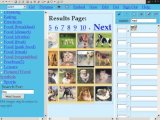 Easily save the pictures you want in any of the following visual aids: activity schedules, choice boards, picture cards, rule cards, behavior charts, chore charts, visual stories, ABA/AVB intensive teaching sessions.
[Back to Top]