Online Picture Schedules
All in one tool for teaching kids with autism spectrum disorders.
New!!!!! Now you can view your picture schedules on an iPad. Go to: joeschedule.com/ijoe.htm
Run ABA Programs , Create Activity Schedules, Token Boards, Social Stories, Behavior Charts and more.

12 Month Subscription - $20.00. Subscribers can access:
(1) ABA/AVB teaching sessions
Use your computer instead of flashcards to motivate your students.
Quickly switch between teaching programs for minimum distraction.
Customize your sessions - select from over 50 teaching programs.
(2) Activity Schedules and more!
Create activity schedules, visual stories, choice boards, picture cards, rule cards, behavior charts, and chore charts.
30 Activity Schedules included.

(3) eBook Activity Schedule Ideas - A How-To-Guide, that will teach you step by step how to create schedules and other visual aids.
Morning routine

Wake up.

Brush your teeth.

Wash your face.

Get dressed.

Fix breakfast.

Pack your lunch bag.

Pack your backpack.

Go to school.
Activity schedules are a research based visual strategy that are used to increase independence, teach new skills, increase time spent on leisure activities, decrease tantrums, and make transitions easier by making expectations clear and consistent for individuals with disabilities.
JoeSchedule.com is an Internet based program making it easy to access from your home, school, or the library.
Internet access allows for greater communication between home, school, parents, therapists and other caregivers.
JoeSchedule.com makes it easy to print, create, modify and use activity schedules and other visual aids.
Subscribers access ready made schedules and choice boards including:
Choice Boards
Bathroom
Behaviors
Chores
Dressing
Eating
Leisure

Chores
Changing the sheets
Doing laundry
Make your bed
Clearing the table
Sweeping
Feed the dog

Bathroom
Wash your hair
Washing hands
Washing hands(boy)
Go to the bathroom

Dressing
Get dressed
Get dressed (winter)
Eating
Fix breakfast
Fix lunch

Home Skills
Call 9-1-1
Call Grandma

Play Skills
Trains
Blocks
Puzzle
Play house
Color

Recipes
Make a sundae
Make Chocolate Chip Cookies
Make a peanut butter and jelly sandwich
Make a milkshake

Routine
Morning routine
Night time routine
Packing bag for school
Hang up coat
Doing homework
Schedules can be used interactively on the computer.
Choice boards are easily embedded within schedules to increase choice.
Access millions of pictures on the Internet. We provide you with a simple interface that allows you to easily get pictures from the Internet. You can go to a favorite website to get pictures or use a search facility to get pictures of just about anything.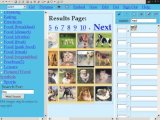 Don't know how to get started? Looking for some fresh ideas?
Joeschedule.com includes the eBook, Activity Schedule Ideas - A How-To-Guide, that will teach you step by step how to create schedules and other visual aids.
(Sample Pages)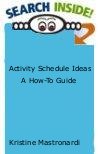 Subscribers have access to all of the examples in the eBook on the website. They can be used as-is or modified to suit your personal needs.

Subscribe Today!
[Back to Top]